Successful handover
Handover at the Steinbeis Transfer Centre: With the move to new premises in Langenau, the generation change in the centre management from Prof. Dr. Günter Willmerding to Dipl.-Ing. (FH) Jakob Häckh, M.Sc. has been successfully completed. That was reason enough to look back and look forward at a celebration on 26.01. in due form.
In 1988 Günter Willmerding founded the Steinbeis Transfer Centre New Technologies in Traffic Engineering. In order to maintain the centre's know-how in the long term, his successor Jakob Häckh founded the Steinbeis Transfer Centre Traffic Engineering.Simulation.Software in 2010. The aim was to successively transfer all resources (products, equipment, employees) from Günter Willmerdings centre to Jakob Häckh's new transfer centre.
This process has now been completed. After more than 30 years of successful center management, Günter Willmerding closes the Steinbeis Transfer Center New Technologies in Traffic Engineering. But not a trace of retirement: Günter Willmerding is pleased to be able to continue working as an employee in the field of lifetime calculation for the Steinbeis Transfer Center Traffic Engineering.Simulation.Software without having to perform administrative tasks for a company management. He will focus scientifically on the theory of service life and its further development. The winLIFE seminars are also a matter close to his heart, which he will continue to lead. A seamless transition for customers is ensured: For them, practically nothing will change, because all tasks of the previous transfer center will be taken over by Jakob Häckh's team.
This castling was duly celebrated on 26.01.2019. Employees, alumni, doctoral students as well as Prof. Dr. Michael Auer (Chairman of the Steinbeis Foundation) and Prof. Dr. Dr. h.c. mult. Johann Löhn (former chairman of the Steinbeis Foundation from 1983 to 2004) were among the guests.
A review of successful projects of the original transfer centre, employees, satisfied customers, successful technical innovations and prizes made it hard to believe that 31 years had passed. Also the rapid technological development, driven by the progress of computer technology, became clear in the lectures.
Jakob Häckh, head of the successor transfer centre, showed in his lecture that he is pursuing an attractive further development, which was honoured in 2018 with the Steinbeis Foundation Transfer Prize - Löhn-Prize. The real-time control of test benches developed in cooperation with Daimler was presented in an exciting video. The technical and commercial success gives the certainty that the future development of the SSteinbeis Transfer Centre Traffic Engineering.Simulation.Software will continue to lead to attractive, safe workplaces.
This shows that under the umbrella of the Steinbeis network, long-term corporate concepts can be pursued that make an innovative contribution to the development of Baden-Württemberg as a business location, even across generations.
You will find more detailed information under news
We have moved
Steinbeis-Transferzentrum
Verkehrstechnik.Simulation.Software
Im Dorf 22
89129 Langenau / Hörvelsingen
Tel.: 07348 96883-0
Transfer award 2018 of the Steinbeis Foundation
The Löhn-Prize for outstanding projects in technology transfer was awarded to:
Steinbeis Transfer Center
Traffic Engineering.Simulation.Software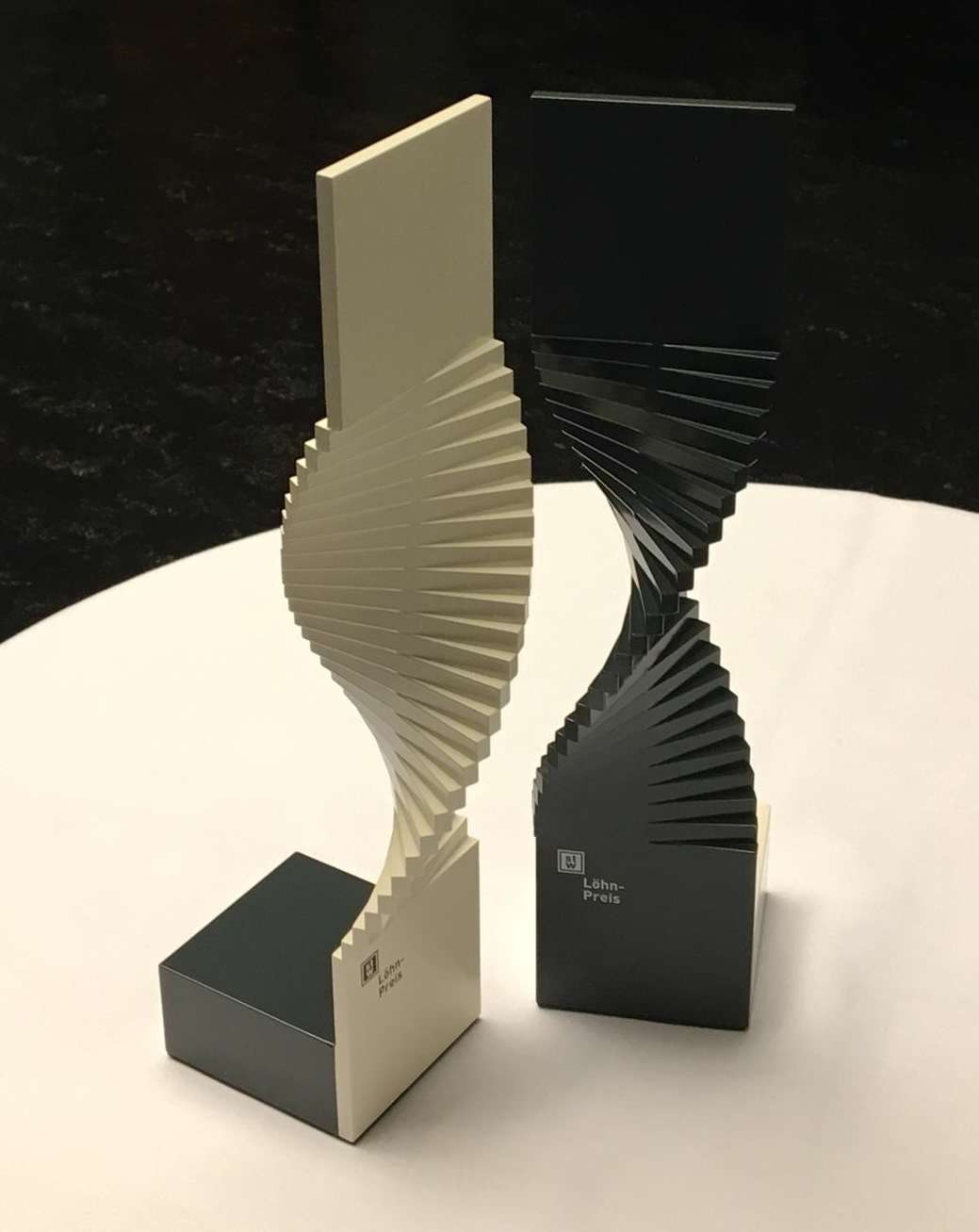 For further Information please click here
Principal Work Fields
Simulation of powertrain, fuel consumption, emissions, vibrations:
We have been simulating the drive trains of road vehicles for 30 years. Drives with piston engines, gas turbines, electric motors with battery accumulators or fuel cells, hybrid drive etc. were investigated. The software package winEVA developed for this purpose covers all these topologies and is used as a powerful simulation tool with more than 100 licenses sold in the automotive and defence industry.

Real-time control of test rigs:
winEVA is also used for real-time control of test rigs. An important capability is to follow measured drive cycles on the test rig.
Design and calculation of novel vehicle components using FE methods and fatigue life prediction:
Structural analyses with regard to fatigue life are carried out with FEM and MKS systems in order to find the optimum solution from the multitude of possibilities.
Analysis of the fatigue life by means of calculated prediction especially of vehicle components, defence systems and wind turbines:
The winLIFE software tool, which is successfully used for such services, was developed for fatigue life analysis. We assist our customers during the first projects. We also investigate questions regarding damage analysis.
Traffic flow analysis and simulation, use of a traffic measurement vehicle:
Realistic driving cycles are very important for fatigue life, emissions and fuel consumption. Three own measuring vehicles (MB SL 350, MB B 220 4 matic, A-class CDI 180) are available. The specially developed measurement data collection system winADAM (automated mobile data collection) captures not only various vehicle dynamics and mechanical parameters, but also video data and the position.
Software: winADAM, winEVA and winLIFE:
The software products and the measurement data collection system are continuously developed by us and used on behalf of our customers. Additionally, we offer training courses.